CopyFilenames Pro
Copy Filenames Pro Overview
What is Copy Filenames Pro?
CopyFilenames Pro is an extension for Windows Explorer. It cannot be run as a standalone application. After installing CopyFilenames Pro, right click on one or more files or folders in Windows Explorer and you will see the extra commands in the context menu that pops up, which have been added by CopyFilenames Pro: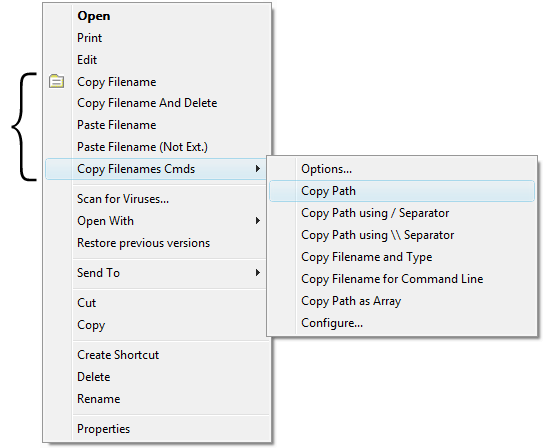 What's it for?
Windows has no built in way to copy a filename or folder listing to the clipboard. For a single file, you can use File > Rename, CTRL+C, then ESC to copy a filename to the clipboard, but this is quite tedious if you have to do this frequently or for lots of files. Windows also has no easy way to copy file attributes such as the size or date to the clipboard.
The commands added by CopyFilenames Pro to the Windows Explorer context menu make it easy to copy file or folder names, paths or other attributes to the Windows clipboard.
This can save a lot of time (and possible errors) when writing documents that need to refer to files. This can be particularly useful for developers, technical authors and systems administrators for example.
The commands that are added, and whether they are added to the main context menu or a sub-menu, is fully configurable.
Some of the most useful commands added to the Windows Explorer context menu are:
Copy Filenames
Copies the names of the selected items (files or folders), one per line.
Hold down CTRL while selecting this command to bring up the Options Panel which provides further controls.
Hold down SHIFT while selecting this command to copy the full path to each selected file instead of just the filename.
Copy Filename And Delete
Copies the name of the selected item, and then deletes the item. It only appears if a single file or folder is selected. This command can be used with the Paste Filename command to quickly replace one file with another.
Paste Filename
Renames the selected item with the text on the clipboard. This command only appears if a single file or folder is selected, and in addition will only appear if the clipboard contains text that is a valid filename.
Paste Filename (Not Ext.)
Renames the selected item with the text on the clipboard, but without changing the extension of the selected item. If the text on the clipboard has an extension, this is ignored.
Options
Brings up the Options Panel. This lets you select various formatting options for the text generated, and also allows various other file attributes to be copied.
In addition to these commands, you can define your own commands that copy the file or folder attributes you want, and with the text formatted just as you need.
When any folders are selected, you have the option to copy the names of all the files in the folders instead of the names of the folders, to whatever depth you want.
Using the Options Panel
When using the Options Panel, you can:
Copy file or folder name or full path
Double up back-slashes, or use forward slashes, if full path added
Add file size
Add file date/time
Quote filenames with single or double quotes
Separate multiple filenames with newline, space, tab or comma
Using User-Defined Commands
When you use the Configure Panel to add a user-defined command, you can:
Add item name
Add full path to item
Add full path to parent folder containing item
Select whether paths use back-slashes, doubled up back-slashes or forwards slashes.
Add item type (based on file extension)
Add item size (in bytes, Kbytes, Mbytes, Gbytes, or auto)
Add item date/time (last-modified, created or last accessed) in a number of formats.
Add any arbitrary text between attributes
Set any text as the separator between the text generated for each item
Add any text at the start or end of the text generated.
Note: item refers to a file or folder selected in Windows Explorer.
---
Privacy Policy
| ExtraBit Software Ltd., Pennard Road, Swansea SA3 3JG, UK | Copyright © 2022 ExtraBit Software Ltd., All Rights Reserved